Arts, Theatre & Museums
Theatrical and musical performances and artifacts and exhibits are sprinkled throughout our community. We are fortunate to have Eastern Illinois University in Charleston, U of I in Champaign and Milikin University in Decatur as host for many venues.
Doudna Fine Arts Center   
The Doudna Fine Arts Center, Eastern Illinois University, is Charleston's new architectural landmark. Designed by internationally famous architect Antoine Predock, winner of the American Institute of Architects Gold Medal for Lifetime Achievement in 2006 and the Smithsonian Cooper-Hewitt National Design Museum's Gold Medal for Lifetime Achievement in Design in 2007, the Doudna stands at the center of EIU's campus. The Doudna boasts several public venues for musical, theatrical and artistic performances: a 300-seat theatre, a 175-seat studio theatre, a 600-seat concert hall, a 150-seat recital hall and several gallery corridors in addition to housing EIU¹s departments of Art, Music and Theatre Arts.
EIU Symphony Orchestra & Musical Venues


The EIU Music Department offers performances by ESO, Wind Symphony, Jazz Ensemble, Concert Choir/Mixed Choir, and Music Theatre/Opera, plus recitals and concerts by visiting artists, faculty, and students in the Doudna Fine Arts Center's Dvorak Concert Hall and Recital Hall.
EIU Theatre
The theatre wing of Doudna Fine Arts Center gives EIU Theatre Arts students, faculty and patrons the best the contemporary theatre design can offer, including a 300-seat proscenium theatre, a 150-seat flexible black box and a 75-seat experimental theatre.

Charleston Community Theatre
Charleston Community Theatre presents productions year round in the performance space of the art gallery at the Tarble Arts Center.
Little Theatre on the Square

Located just 12 miles to the west of Mattoon, The Little Theatre on the Square in Sullivan offers professional productions in a fully renovated theatre. It's a real treasure in our community.
Effingham Performance Center
Arts Connection of Central Illinois has been established to showcase arts and entertainment, with the goal to encourage interaction and appreciation of live performances, and to enhance the quality of life and cultural vitality of the region. Nationally known performers are featured year round.
Museums
Tarble Arts Center
Eastern Illinois University campus. This gem is open year round presenting art exhibitions, a gift shop, special events, performing arts, and educational programs. The permanent collection includes Illinois folk art and contemporary art.

Lincoln-Douglas Debate Museum
Located at the Coles County Fairgrounds, this is the only museum in Illinois that retraces the senatorial debats of 1858 between Abraham Lincoln and Stephan Douglas. Themuseum offers exhibits and interactive displays that tell the debates' story through film, audio selections, artifacts and photos. The museum also includes a children's hands-on area and a gift shop.
Amish Museum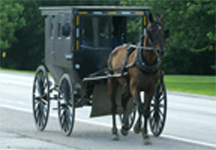 The Illinois Amish Interpretive Center in Arcola, features the history of the Illinois Amish, Amish life today, and tours of Amish country including farms, garden patches, woodworking shops and homes. You can even enjoy an Amish-prepared meal served family style in their homes.